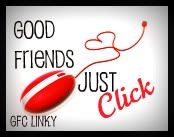 What a cool way to increase readership to your blog while making new friends! Head on over to
A Mom's Take
today for the weekly
Good Friends Click Hop
. Click the first five links so you can follow the hosts (as a 'thanks' for running the show every week), then add the link to your blog at the bottom so that others popping in can follow you. The full list appears on all five host blogs so there's potential for quite a bit of exposure.
There are a lot of mommy-type blogs, many with giveaways and money-saving tips and tricks, so skim the list for blogs you might be interested in and follow them too. When you follow someone, leave them a comment to let them know you found them through the Click Hop.
A new blog hop is posted every Tuesday, so make sure to head back there next week to follow, be followed, and find new friends.
See you there!